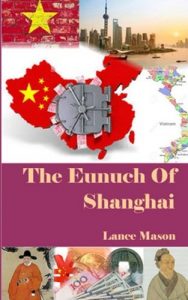 The Prologue of THE EUNUCH OF SHANGHAI finds Special Agent Daniella Benelli and Detective Inspector Nigel Hawkins falling in love during a romantic seaside holiday in New Zealand. The sun is shining and the birds are chirping—when Benelli's phone rings. This is their "call to action." She's being sent up to Vietnam to investigate the multiple murder of a family of US citizens, and, at the Bureau's request, New Zealand Police assign Hawkins to go with her, reviving their crime-solving partnership from a recent global manhunt dubbed "The China Contract" by the international media.
In the first chapter, we witness the funeral of Li Chenqing (Old Li), conducted by his three children, elder son Shihquan (Young Li), his half-sister Xifeng, and her brother Huangqi. It is a celebration that befits China's reigning, self-made billionaire, but this harmony veils the heirs' self-interest and the lure to the "power of the throne." As the day winds down, Shihquan will be told a secret—or is it merely a rumor?—by an elderly stranger that sets the story on its vengeance-fueled course.
When Young Li discovers the depth of his father's betrayal, his entire life—filial piety, ancestral respect, natural lust, individual ambition—is turned on its head. He seeks out and finds a long-lost and unknown sister, and together they plot the takeover of House of Pearls, the late Old Li's business empire. With the help of a powerful and secretive cartel, they also set a battle plan for a currency war to see the Chinese yuan achieve dominance over the US dollar, causing the balance of global economic power to shift into their hands and away from the West.
As Li Shihquan slips further under the influence of his prodigal sister Li Wei Wei, and further into a delusional state of mind, he has himself sterilized, with the aim of ending his father's genetic line. That goal converges with their goal to take over House of Pearls, and they do that by murdering "the competition", half-sister Li Xifeng and her American husband and children in Sapa, a remote hill-town resort in Vietnam. These killings, of course, also help end Old Li's line of succession. A young local woman is killed as well, while assisting the family, and her death will ultimately lead to justice being served on the guilty.
Hawkins and Benelli, their holiday cut short, are briefed on details of the killings, including ritual beheadings, before flying out to Vietnam. However, while en route through Singapore, they pick up a mysterious "tail," thanks to a handler in Shanghai. In Vietnam, Hawkins and Benelli join forces with Tran Bu Dai, a local police lieutenant with the perfect motive to pursue the killers—he's the secret and humble lover of the murdered village girl. These "three musketeers" begin a journey into China to find and interview the surviving Li family members, and discover the hand, or hands, behind the murders.
With the half-hearted help of the senior US liaison in Shanghai, they interview Li Shihquan and his true sister Li Wei Wei, masquerading as Cousin Li Guilan. Both sides leave the meeting with deep suspicions, and "Guilan" and Shihquan order a street hit on the foreigners. What begins as a one-sided shooting in a Shanghai shopping district becomes an open gun battle, for the ever-present "tail" turns out to be the good guys, and the assassins sent by Shihquan and Wei Wei meet rough justice at the hands of this local "cavalry".
Tran goes to the hospital wounded, and Benelli and Hawkins are delivered to Wang Liumen, First Deputy Minister of Commerce—and the man they rescued in California in THE CHINA CONTRACT. Wang has been running the tail, and he now explains his complex and double-edged history with the Li family, including Young Li's role in the attempt on Wang's life in the US. He explains why Li Shihquan and Li Wei Wei must be dealt with immediately: Recent, secret research into Li affairs uncovered a plot to overthrow the stability of world commerce, something as dangerous to China as to the West.
Through Wang, the reader learns the details of Li Chenqing's duplicity and betrayal: To garner the Party's approval in the late 70s, Old Li followed China's emerging one-child policy and sold Shihquan's infant sister, Wei Wei, into bondage. This Faustian bargain led their mother to commit suicide and their father to not only remarry, but live a lie with his son for thirty years, all the while building his monumental wealth and power. After Old Li's funeral, the son has compounded the sins of the father by carrying out, through an unholy alliance with his long-lost sibling, a scorched-earth attack to balance the emotional books.
Overlaid with the ramifications of this legacy are Benelli's and Hawkins's separate-but-merged stories of heartbreak, obsession, and redemption. Now they're in love and trying to adjust to that while solving a crime of medieval brutality in a country for which they have almost no grasp or comprehension.
At this point, Tran disappears from the hospital with money and drugs, picks up the blood scent, and materializes at the Li mansion, claiming—via a ruse—that Hawkins and Benelli know who killed Li Xifeng and her family, and also know that Guilan is Wei Wei. For large sums of cash he will create a false trail of evidence in Vietnam that will exonerate them. They agree to what is, in fact, a well-camouflaged double-cross.
As the police, Hawkins, Benelli, and Wang are closing in, Tran has found the evidence to prove his suspicions that Wei Wei led the killings which took the life of his lover. Tran drugs and beheads Wei Wei, and then confronts Li Shihquan with her head and the head of the half-sister Li Xifeng, which Wei Wei had smuggled back from Vietnam. As the climax reaches full volume, Li Shihquan shoots Tran Bu Dai on the ramparts of the mansion as Hawkins and Benelli try to rescue him. The police kill Li Shihquan, and First Deputy Minister Wang takes the only surviving sibling, Li Huangqi, under his wing and begins to instruct him on how Huangqi will command and control the House of Pearls.