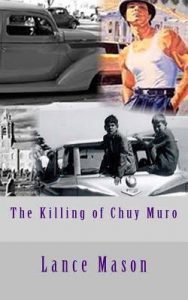 I was born in 1947 and raised in Oxnard, a farm town infamous in SoCal for its violent reputation, in contrast to the peace-and-love California soon to emerge. The summers of 1963 and '64 were marked by a series of gang fights between young Anglos and Chicanos, fights that paralleled the racial conflicts erupting across the country, emblematic of the zeitgeist that marked the rise of civil rights the Sixties' battlegrounds to come. The book's themes are the power of personal ethics, twisting of futures through early loss, and the prices we pay when fear triumphs over the future's promise.
This first-person narrative from Eddie, just released from prison, takes us back to 1963, to his high school years, and the wrenching events that shattered his life and that of Gene, his best friend and spiritual brother.
Medgar Evers, four girls in Birmingham, and JFK are about to be sacrificed to history, events that will galvanize a nation. In the Southwest, the Federal Government's Bracero program—ready, low-cost Mexican labor—is ending, leading to rising immigration and violent confrontations between the white establishment and Latino labor.
The Killing Of Chuy Muro is the story of Eddie Henley and Gene Taylor, best friends since they could "pee standing up." Born in Richland, a hard-bitten farming town on the California coast, Eddie and Gene are more concerned with cars, the beach, and getting laid than they are about politics. But as we enter this chaotic, critical period in our history—and in their lives—this evolves into a Cain-and-Abel story, the boys gravitating to opposite sides of the era's societal divide. Eddie, fearful of change and damage to his meager social standing, cleaves to the values of the town's Anglo culture, while Gene, reacting to racism and violence of the time, is pulled toward the values of equality and civil justice.
The story's tone reflects the "center of the universe" feeling of being young and reckless in 1960s California, and two boys discovering the most poignant experiences of their youth, while hiding two oppressive secrets. Gang fights, girls, sex, and a family suicide all play on their hearts and thoughts as they are split ever further by stubbornness, fear and betrayal. Gripped by these diverging fates, Eddie and Gene become tangled in the tailwinds of rape and murder, climaxing in tragedy for a doomed friendship.