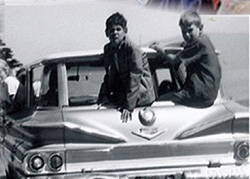 The time is 1963 in the rural Southwest, and farmworkers' civil rights are a flashpoint of social change. The place is Richland, a rural town on the California coast. Eddie is at work, mulling over his seventeenth summer and his plans with Gene, his best friend since before they "could pee standing up." Into the gas station rolls Chuy Muro, a local tough with a sawed-off 12-gauge under the dash of his pre-War Chevy.
So begins a story of discontent, ethnic conflict, and violence. Town officials and police are unable or unwilling to take control, and a combination of alcohol, testosterone, and embittered traditions cascade into beatings, rape, and murder. These events become the acid test of Gene and Eddie's friendship.
From an escalating series of ethnic clashes, Eddie and Gene argue over the blame-laying, and the split between them grows. During a massive gang fight, Eddie witnesses a crime and, under pressure from Gene, testifies against the police, leading to his being ostracized by the town. This perceived betrayal by Gene pushes Eddie past the breaking point.
Released from prison forty years later, the man who speaks to us is still Eddie the boy, remorseful of his deeds and where they have taken him.